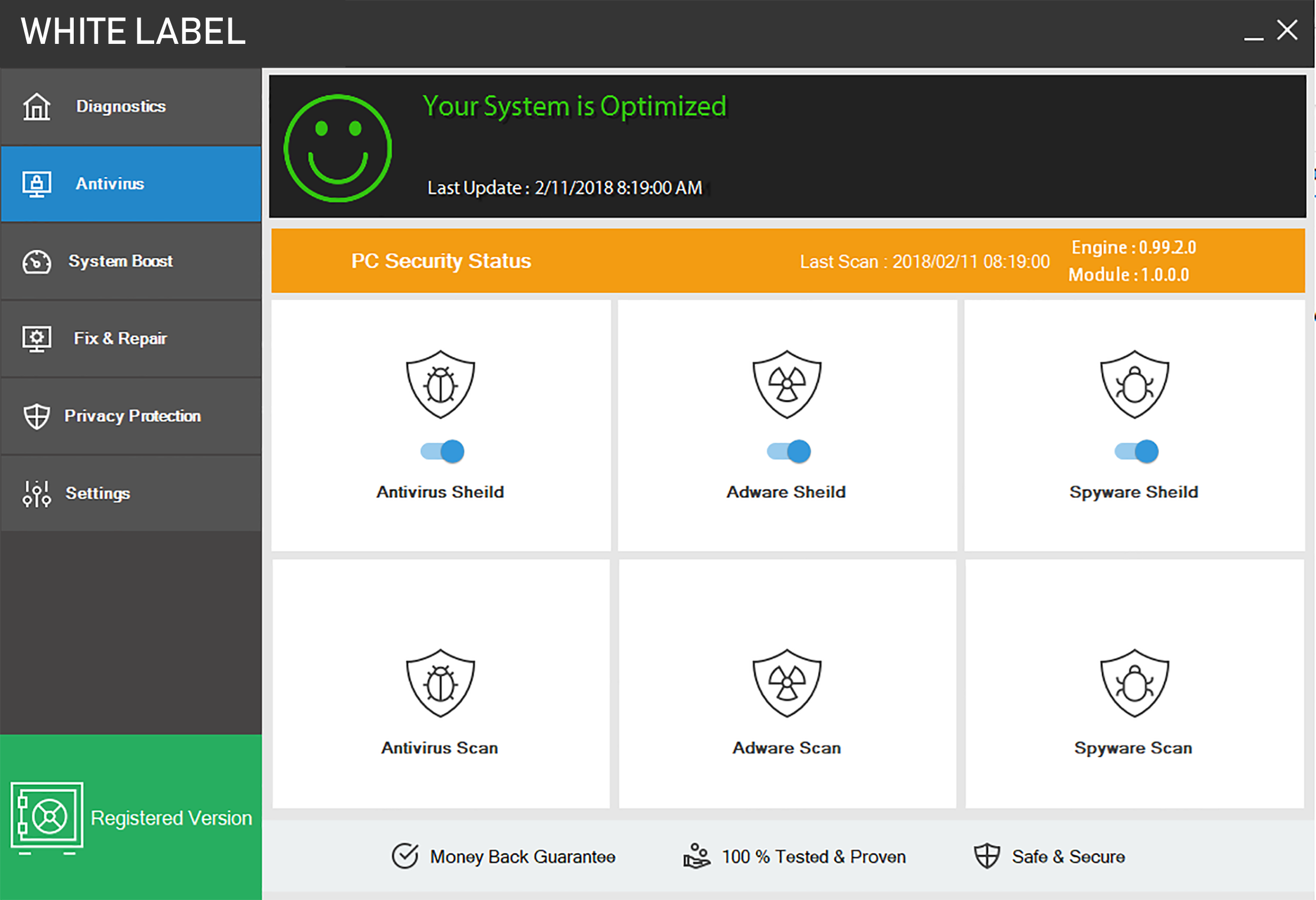 Antivirus & Anti-Malware Solutions
The Antivirus modules allow you to keep fully protected in real time against all known threats. We offer three PC protection shields; Antivirus, Anti-Adware, and Anti-Malware. These allow us to protect your PC from all known viruses, malware, spyware and Trojans. With frequent automated database updates, we are always one step ahead.
Join Program
System Boost & PC Optimization
Enhance and optimize the performance of your PC with our System Boost software. With its built-in smart boost, this software will boost PC performance when the PC is left idle, allowing you to keep the PC in a fully optimized state 24/7. Remove duplicate files, fix and remove start-up applications, and clear junk files and unwanted programs in the click of a button.
Join Program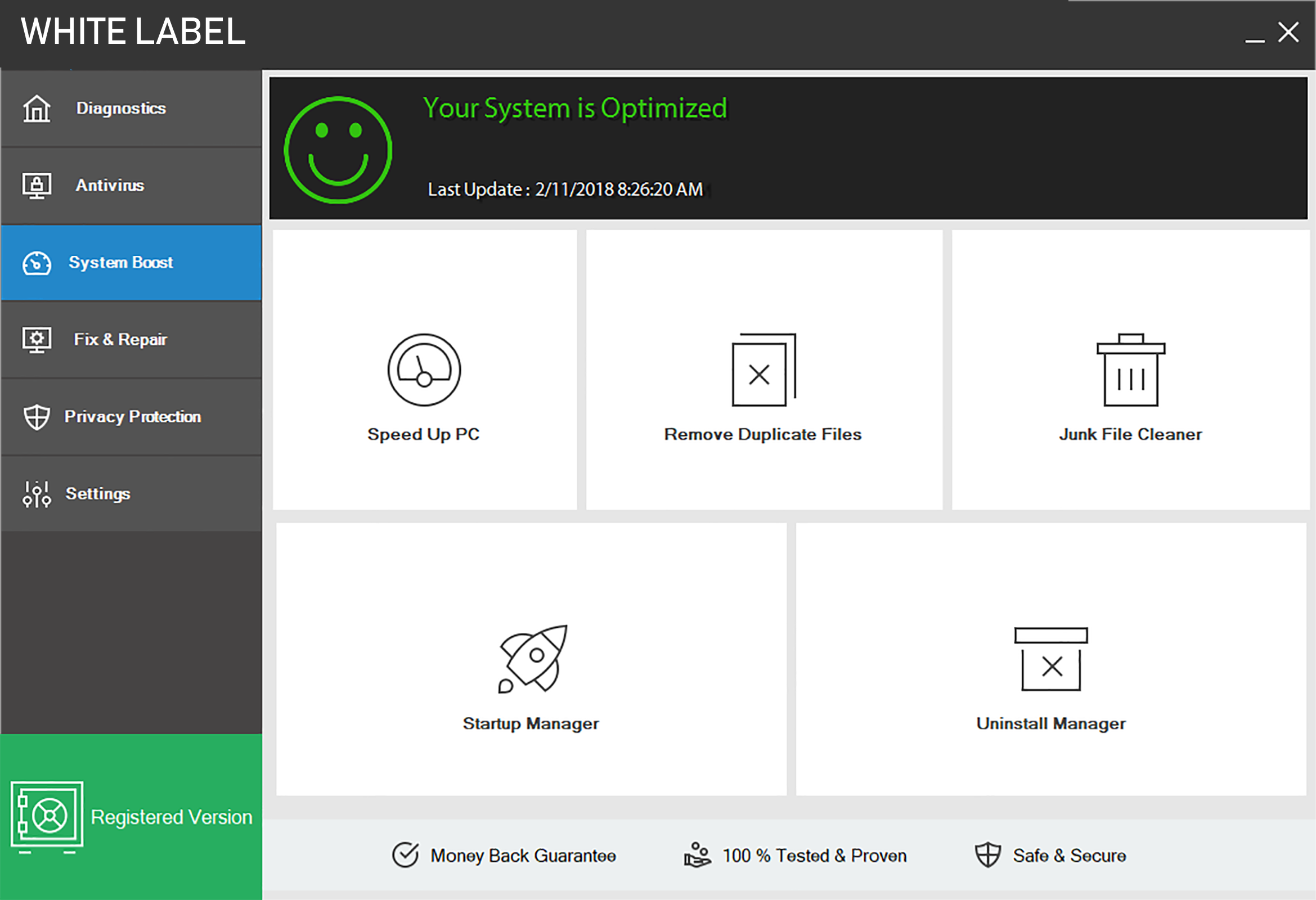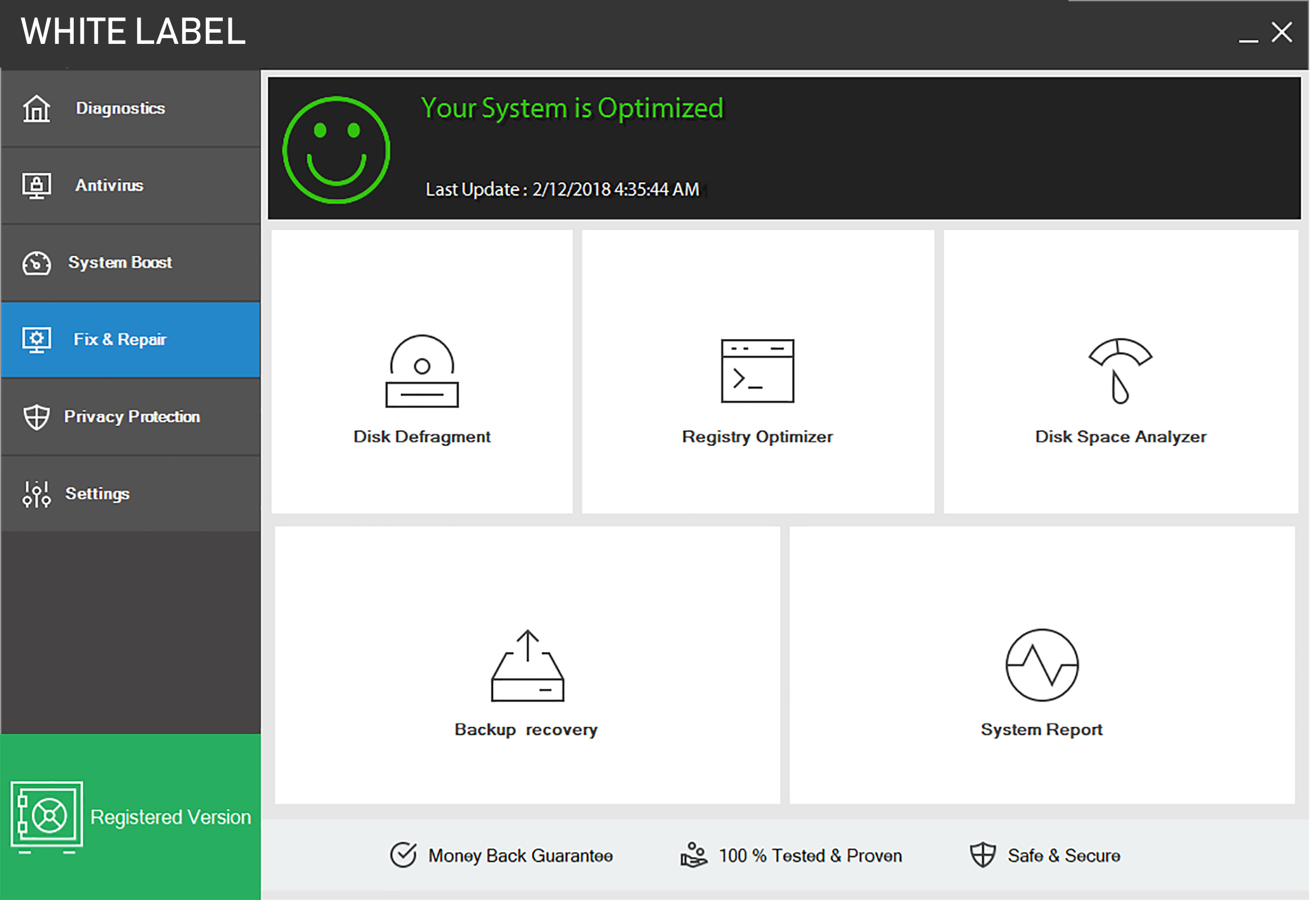 Fix and Repair Performance Optimizer
The Fix and Repair module uses advanced technologies to analyse and clean registry issues. This allows the software to enhance your PC, boost performance, remove unused files, and reorganize the Windows registry to an optimal state. Using the system report and disk space analyser, users can easily see advanced reporting and space usage statistics.
Join Program
Privacy Protection & Prevention
Protect your privacy and identity with the Privacy Protection module. Remove tracks and records of your online activity, browsing history, and chat records. Prevent advertisers from collecting your personal information, and permanently delete confidential files with our file shredder. Use the Homepage Protection and DNS Protection to avoid page hijackers and adware take-overs.
Join Program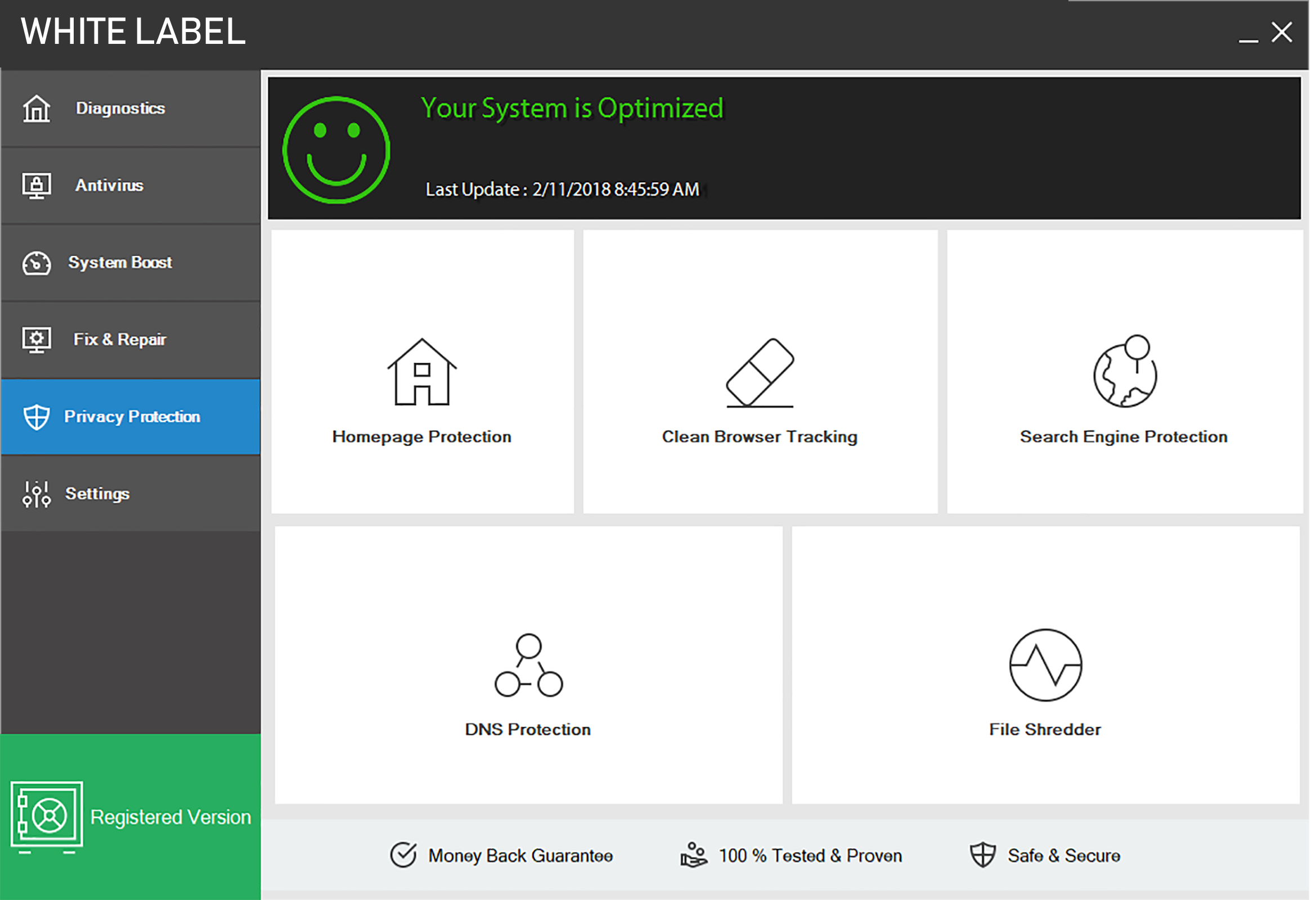 Features
The Antivirus White Label program offers industry-leading conversion rates, maximized consumer satisfaction, and an unparalleled backend. Your software will be fully customizable and brandable with rich user interface features including:

Custom Logo
Fully branded custom logo on both the software and desktop shortcut.

Custom Phone Numbers
Multiple custom geo-based phone numbers allowing you to show the correct numbers to corresponding users based on their geographical location.

Custom Style
100% branded design with your colors, your icons, and your name.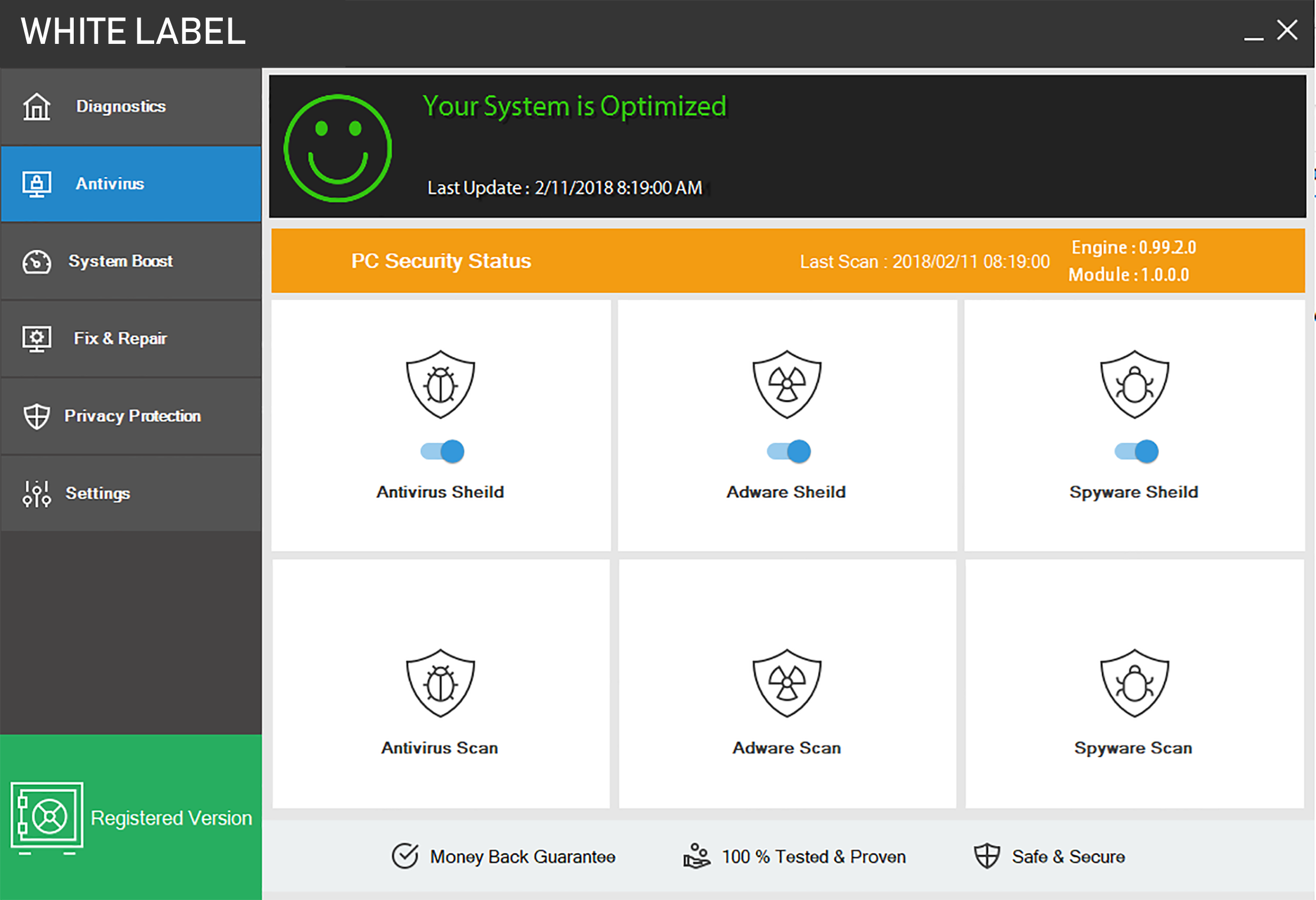 The White Label Software Program.
Our Technology, Your Brand!
Whether you are an existing security vendor, affiliate marketer, or software provider, we have a licensing model that is right for you. The Antivirus White Label program allows you to create antivirus software under your own brand using our advanced technology. This program allows you to receive an antivirus solution under your brand, ready for sale, with no need for staff or developers.
The Antivirus White Label program operates on an OEM partnership, sometimes referred to as a white label or private label. It allows you to create antivirus software using our established and proven technology which has been designed with software distributors, resellers, and affiliates in mind.
Weather you are already reselling major brands antivirus, Antivirus White Label can be a great as an additional revenue stream
This program is tailored to your needs. We offer a full rebranded PC care and protection suite including the partner's choice of branding, icons, and color palettes, along with comprehensive API integration. With a total of twenty-one products, you are able to run scalable marketing campaigns on a number of software-based niches. Join our program to start unlocking your revenue potential today.
More Features

API Guides
The API Guide offers easy-to-follow documentation to build and enhance the software, build custom gateways, and run API calls for events, statistics, and advanced user system information.

Real Time Reporting
The Real Time Reporting allows you to see online users, installs, and uninstalls along with network traffic download sources, allowing you to optimize traffic and see a greater ROI on media and marketing spends.

Personal Manager
All accounts come with personal mangers that are available on Skype, via email, and by phone, giving you fast response for any needed support or inquires.
Get your own branded PC security suite today. It's never been easier. We accommodate all sizes of businesses whether you are an existing security vendor, hardware manufacturer, software provider, or affiliate. You can easily integrate our White Label security suite technology into your product or service and offer it to your customers.
No setup fee! Amazing rates and only pay for the licences you are about to sell!
What are you waiting for?
Get Started